The Everest Base camp trek is the highest trekking route available to outdoor enthusiasts and nature lovers. This journey transcends ones imagination with respect to nature's splendor providing breathtaking views of Nepal from river banks and pine forests to snow caped peaks. The journey finally culminates with a spectacular view of Mount Everest, "The mountain without mercy"…

Mount Everest, the World's Greatest Natural Wonder stands at a height of 8,848 mtrs. above sea level. To the Nepalese, it is referred to as "Sagarmatha: The Sky Head". To the Tibetians, it is referred to as "Chomolungma: The Goddess of the Earth".

Nepal is a country of friendly people, beautiful scenery, and a great variety of cultural traditions. This journey into the world's most impressive mountain range will create lasting memories and instill a sense of accomplishment. This blend of outdoor adventure and cultural exploration is a great way to experience the Himalayan mountains!

Trip To Himalaya Tours provides you a unique opportunity, to not only explore the wonders of the Himalayas but also to rediscover the dormant spirit of adventure in you.

Mount Everest typically has two sides to climb – the south & the North. The North side Base camp falls in Tibet (China's Jurisdiction) & the south side Base camp in Nepal. Our classic 16 day Everest base camp trek is up to the Base camp of the South Side of Mt. Everest and back. Our entry & exit for the South side Base Camp trek is from Kathmandu (Nepal). The 16 day itinerary up to 5400 mts (approx. 18000 feet) is very creatively designed to capture Nepal's beauty , people & Culture in the shortest period of time.

This trek into the Everest region is strenuous but does not require that you have any previous trekking or mountaineering experience. It does not require any technical experience; only that you be in good physical conditioning and be able to hike for 4-6 hours over hilly terrain with a light day pack. Good cardio-vascular conditioning and muscles that are used to hiking will make your trip much more enjoyable. Our goal is to climb Kala Patar at 18,700 feet, and walk on broken glacial moraine all the way into Base Camp, at 17,500 feet. You will spend 12 days in a land where life is simple, trails are steep and the air is thin. Begin training today if you want to get the most from this trip

Everest base camp trekking, one of the most popular trekking routes of Nepal is hinted with the fiction of being to the base of world's highest mountain; Mt. Everest. The Everest region, often also referred as Khumbu region is the ancient residence of the Sherpas with their unique culture, religion and untouched lifestyle isolated to the rest of the world of modernization. The Khumbu region is a hub of Buddhism with plenty of monasteries alongside in Namche bazaar, Lukla, tengboche, Pangboche and Khumjung. Khumbu Region can also be an important Buddhist pilgrimage site. In the Everest base trekking, you will fly to the incredibly situated airport of Lukla, follow the Dudh Koshi valley to Lukla from where you will have the first glimpse of Mt. Everest, giant and smiling in front of you. You will cross most of Sherpa settlements of the region to reach Gorakshep, from where Everest is seen from the nearest distance and the clearest.

Itinerary1
Inclusion & Exclusion
Accommodation/Hotel Details
Package Cost
ITINERARY(Everest base camp trekking):
Destination: Kathmandu- Lukla-Phakding to Namche Bazaar-Tengboche-Dingboche to Lobuche-Gorakshep to Kalapatta
15 Nights/16 Days Tour

Day 01: Arrrival to Kathmandu: 
Airport pick up by Office Representatives. Transfer to the hotel in Kathmandu. Evenings are generally allowed free to shop around at your own. Overnight in hotel in Kathmandu.

Day 02: Sightseeing in Kathmandu: 
A day in Kathmandu includes sightseeing which gives you major highlight's visit inside Kathmandu valley. Visit the Pashupatinath Temple, Boudhanath Stupa, Swaymabhunath Stupa, Kathmandu Durbar square etc. overnight in Hotel in Kathmandu.

Day 03: Fly from Kathmandu to Lukla:
The Flight to Lukla is wonderful, passing above the mountains; the landing is an exciting moment in almost inclined airport where one end is 60 mtrs higher than the other. Start hiking along the Dudh Koshi to stay overnight in Phakding (2600 mtrs.). You will encounter the first procession of Yaks carrying the goods and creating temporary roadblocks while you are on your way. Yaks, Sheeps, Mule and horses are major transport mean in the region.

Day 04: Trekking from Phakding to Namche Bazaar:
Continue walking along the Dudh Koshi to reach the Namche Bazaar. This famous trade center of the region is facilitated much than the other villages of the region. The Saturday market in Namche bazaar remains one of the important venues for the villagers to gather for need of home appliances, goods, clothes. Overnight in Namche bazaar (3440 mtrs.).

Day 05: Free day in Namche bazaar:
Acclimatization in Namche bazaar, you may also wish to visit the places around. Overnight in Namche.

Day 06: Trekking from Namche bazaar to Tengboche:
The real romance of being in the Everest region starts on this day. The Dudh Koshi River is far below while Giant white snow mountains are in front of you including Thamserku (6623 mtrs.), Ama Dablam, Katenga Mountain and Even Everest (8848 mtrs.). Way through Rhodondren forest, along many Mani walls, Rivers with suspension bridges let you forget all the plains of walking ups and downs on this day. Overnight in Tengboche (3860mtrs.). Religiously, Tengboche is important site of the region with the most famous Tengboche monastery. The monastery was destroyed by earthquake frequently and re-built.

Day 07: Trekking from Tengboche to Dingboche: 
Follow the way down to Deboche village where there is a small nunnery. The part of the trek is wonderful; you will encounter many pheasant species on this day's walk. The part of the trail has had a hunting ban from a long time which makes it decorated with increasing number of bird species as well as animals. Arrive Dingboche Village for an overnight stay (4400 mtrs.).

Day 08: Free day in Dingboche village:
Acclimatization is allowed on this day here in Dingboche, you may wish to visit the Chukung Village from where you can see the Island peak. Overnight.

Day 09: Trekking from Dingboche to Lobuche:
Alpine fields combined with a summer graze pasture of the Yaks lead to the moraine of the Khumbu Glacier on this day.You can see the memorial remnants of the climbers here in Lobuche who died of the Avalanches many years ago. Lobuche offers the views of Nuptse, mainly at its sunset is breathtaking. Overnight in Lobuche after around 5 hours trekking (4900 mtrs.).

Day 10: Trekking from Lobuche to Gorakshep:
This is most wonderful day. You are trekking at much altitude. Gorakshep has some tea shops, an almost all time frozen lake nearby, and the Kalapattar peak are just nearby. Overnight in Gorakshep preparing next day's tough trek (5150 mtrs.).

Day 11: Trekking from Gorakshep to Kalapatta, climb the Kalapattar:
The day is tough, long yet spectacular day. You will start as early as possible to climb to Kalapattar to avoid the large wind on the top of peak. From Kalapattar, the Everest is seen from the nearest distance. Sunrise view from Kalapattar peak will be one of the wonders of your life. Trek back to Gorakshep to continue your trek back to Lobuche Village (4900 mtrs.).

Day 12: Trek back from Lobuche to Pangboche:
Pangboche is one of highest permanent settlements of the world and conserved one of the oldest Gompas of the region. Overnight in Pangboche (3950 mtrs.).

Day 13: Retrace the way back to Namche bazaar.

Day 14: Retrace the way back to Lukla.

Day 15: Flight from Lukla to Kathmandu.

Day 16: Free time in Kathmandu, departure in the afternoon.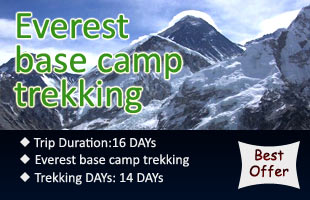 Trek Cost: On Request.

Hotel standard: Tea house/ 2 star in Kathmandu
Guide: English/ Hindi speaking guide
Porter: English/ Hindi speaking porter
Sharing: Twin sharing basis only
Meal Plan: All meals included except Kathamndu
Minimum group size: 06 pax

TOUR CONCLUDES

Accommodation on twin sharing / triple sharing.
Entry fees at the monuments/ temples
All metioned sightseeings.
Soft drinks and hard drinks.
Transport as per request.
Expenses of personal nature such as laundry telephone calls, drinks, tipp and guide charge etc.
Food as per the meal plan.
Any kind of insurance.
Extra bed charges as per the Hotel.
All applicable taxes.
Hotel details.
Manali - Hotel River View / Uppadhyay Cottage
Keylong - Nalwa Guest House/ Jispa Hotel D - Huts
Sarchu - Tent (Swiss Tents on Twin Sharing Basis With Attached Bathroom)
Leh - Hotel Somoriri / Hotel Mahek
Nubra Valley - Diskit - Siachin Guest House.
Pangoing Lake - Eco Huts/ guest house.( with basic facilities and common bathroom)
Content 5