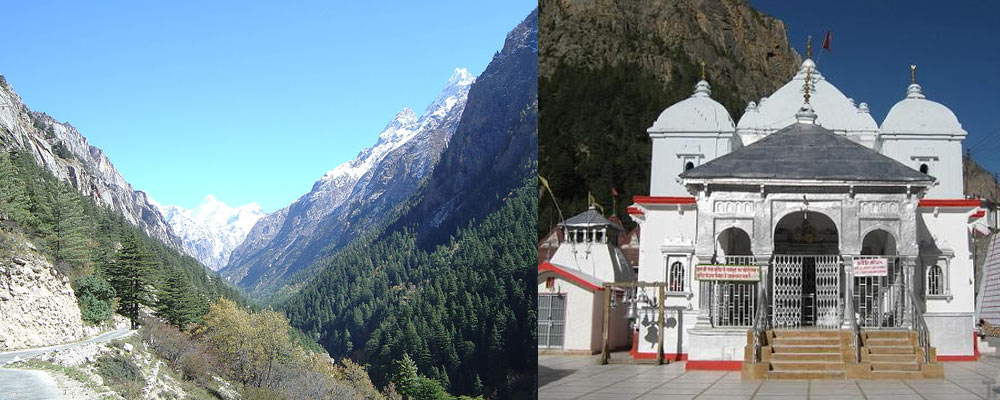 Gangotri Dham
Geographic Details of Gangotri Dham

Location : Right Bank of River Bhagirathi
Dedicated To : Goddess Ganga
Altitude : 3042 mt
Built In : 18th Century

GETTING THERE :-
Air : Nearest airport is Jolly Grant, 226 kms.
Rail : Nearest railhead is at Rishikesh, 249 kms.
Road : Well connected to Rishikesh, Haridwar, Dehradun and Delhi.



GANGOTRI
Beyond the gorge where the Jadh Ganga meets the Bhagirathi, heralding the approach of the Gangotri temple, the narrow, Bhagirathi ravine, dramatic and beautifully wooded, opens out into a valley flanked by jagged snowy peaks. On the slopes clothed with birch trees their trunks wraped in a paper like tissue used in ancient days for writing scriptures, are groups of giant pillars of boulder clay topped by boulders.

The shrine of Gangotri situated at an altitude of 3042 m above sea level amidst captivating surroundings, along the right bank of Bhagirathi is 100 km from Uttarkashi. The temple was constructed in the early 18th century by a Gorkha Commander Amar Singh Thapa. The existing temple is said to be the one reconstructed by the Jaipur dynasty. Every year hundred thousands of pilgrims throng the sacred shrine between May & October.

Like Yamunotri the shrine of Gangotri opens every year on the auspicious day of Akshaya-Tritiya & closes on the day of Diwali.