Chardham Yatra
Badrinath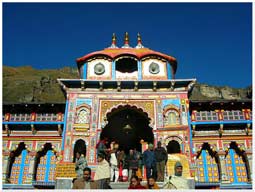 Cradled in the twin mountain ranges of Nar and Narayan is the holiest of the four main shrines, Badrinath along the left bank river Alaknanda. With the splendid Neelkanth mountains as the backdrop, it is an important destination on the scared itinerary of every devour Hindu. Once the spot was carpeted with 'badris' or wild berries and hence was famous as 'Badri Van'. This is the style that developed in the Dravida Desam. The Vimana and the Gopurams are the distinctive characteristics of the Southern style.



Kedarnath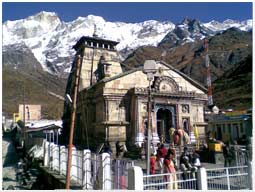 Kedarnath is a majestic sight, standing in the middle of a wide plateau surrounded by lofty snow covered peaks. The present temple, built in the 8th century by Adi Shankaracharya, stands adjacent to the site of an earlier temple built by the Pandavas. The inner walls of the assembly hall are decorated with figures of various deities and scenes from mythology. Outside the temple door a large statue of the Nandi Bull stands as guard.



Gangotri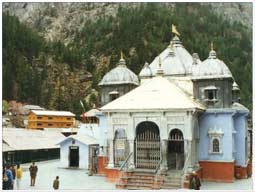 The shrine of Gangotri is situated at an elevation of 3048 m amidst captivating surroundings. Gangotri is located at a distance of 99 km from Uttarkashi. The temple, constructed by the Gorkha General Amar Singh Thapa, in the 18th century, is situated on the left bank of Bhagirathi. It is visited by lakhs of pilgrims every year. A number of ashrams are located on the other side, some of which provide accommodation facilities to the visitors.



Yamunotri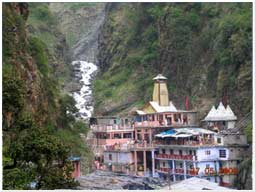 The shrine of Yamunotri, situated at an elevation of about 3,235 m is a point of paramount religious importance for Hindus and an essential pilgrimage. Situated in the direction opposite to Gangotri, the road bifurcates from a place called Dharasu, somewhere between Rishikesh-Uttarkashi and goes on to Yamunotri. The shrine can also be visited via Mussoorie and Barkot.
The Garhwal Himalayas have been blessed with some of the holiest Hindu pilgrimage sites and Yamunotri is one such.