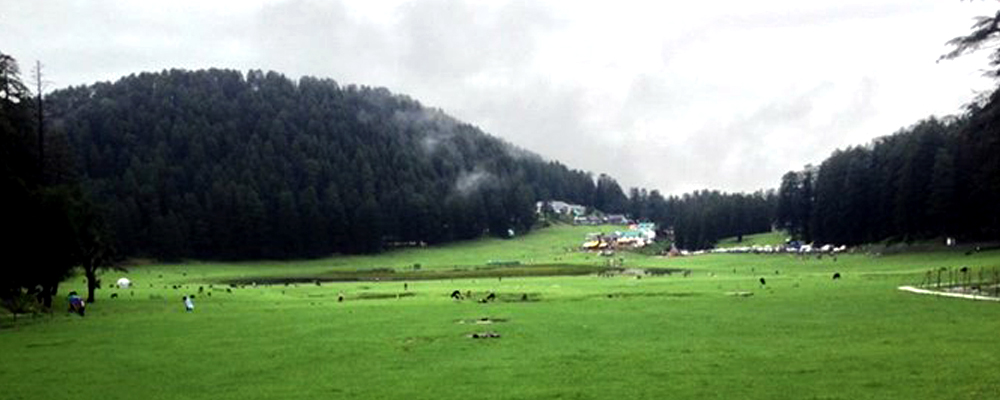 Best Places to Visit in-Dharamshala-Dalhousie

Dharamshala Cricket Stadium
The stadium is located at the height of 1457 metres above sea level.This place is a perfect place for the cricket tourist and is open for tourism whether match is going on or not. One can see the tibetian culture and art in construction of this stadium. One can reach this place by taking Taxi which is easily available.

St. John in the Wilderness Church
It was built in 1852 and is one of the most important churches in Himachal Pradesh. This church is located on the way to Mcleodganj and near Dharamshala. This church was built in dense woods that is why it is famous as 'St. John in the Wilderness'.

War Memorial
This place is made in the memory of those who fought for saving of motherland. War Memorial is situated near Dharamshala situated inbetween the pine forests.

Gyuto Monastery
A not so easy to find monastery, unless a driver is willing for the same. A serene monastery of holiness.

Dal lake and Nadi
Dal lakes lies inbetween hills and deodar trees and is 11 km away from lower Dharamshala. Small Shiva Temple is also situated on the banks of this lake.

Tea gardens
Across the Kangra Valley Dharaamshala has beautifully lined and organized tea gardens, which is known for its good quality tea.

Jwalamukhi Devi Temple
One of the most famous temples in India. There is no idol , but only a flame burning all time from some mysterious source. In this temple one can experience the ultimate power of Goddess in its natural form.

Triund
This place is situated at a great height from here one can enjoy the view of Moon Peak – Indira pass. Triund is a 9-km trek away from Mcleodganj.

Bhagsunag falls
This place is famous for its old temple "Bhagsunag Temple" and waterfall, the height of the waterfall is approx. 20 metres. The Bhagsunag Fall is located only 2 kms from Mcleoganj and about 11 kms from Dharamshala.

Attractions in Dalhousie
Khajjiar
This place is nearby Dalhousie about 26 km away and is also known as "Mini Switzerland". Khajjiar is situated at a height of 6500 feet and surrounded with natural beauty and pleasant climate. The Khajjiar Lake and Chamera Lake add to the magic of Khajjiar. This place is also famous for nine-hole golf-course which is nestled in the middle of lush greenery and a incredible landscape.Khajjar also attracts people who are adventure lovers and has a lot of options like paragliding, horse riding, zorbing, trekking etc.

Panch Pulla
Panchpulla is a waterfall, where five streams come together , name itself means five bridges.Out of these five streams ,the main streams supplies water to the various cities of Dalhousie. This place is best known for trekking and its marvellous beauty.

Satdhara Falls
The Satdhara Falls is situated in the Chamba valley, surrounded by amazing views of snow covered ranges, and fresh, green pine and deodar trees. The water here is said to contain mica, which has medicinal properties to cure skin diseases. It gets its name from the seven serene springs, flowing in full force through mountains of Himachal Pradesh.

Kalatop wildlife sanctuary
The Kalatop Wildlife Sanctuary is home to a wide variety of flora and fauna. Leopard, bear, deer, langur, jackal, Himalayan Black Marten, Barking Goral and countless beautiful birds can be seen here.
The landscapes are thickly covered with Deodar trees with little streams flowing into the Ravi river. The wildlife sanctuary was better known as a gaming reserve for Chamba rulers, in history. The area is a favorite spot for trekking, picnics, and nature walks.

River Crossing and River Rafting
River crossing is done across the river Ravi or Saal under the supervision of trained instructors while River Rafting too is a growing favorite in Chamba, usually done on the Rivers Ravi and Saal, too.

Daikund Peak
It is situated 10 kms away from Dalhousie at a great height of 2755 m. One can get a amazing view of the hills and rivers below from here. This is also known as the Singing Hill wind blowing through the trees create a musical serenade. This is the highest peak in the area watching over the beautiful pine laid landscapes of Dalhousie.

Subhash Baoli
This place is located 1 km away from Gandhi Chowk and it is an ideal picnic spots. It is situated near beautiful waterfall which flows into a glacial stream. Subhash Baoli is named after the famous freedom fighter Subhash chandra Bose, and saying is that spring has medicinal properties to cure the freedom fighter of his ill health.

Bakrota Hills or Upper Bakrota
The area is surrounded with deodar trees and hills all around. This is the highest area in Dalhousie and is circled by a road called Bakrota walk which leads to Khajjar. The area does not have too much to attract tourists but is ideal for walk and to look around and enjoy the sceneries.

St. John Church
Every Sunday one can visit this church for the service and this is a favourite place for the photographers to shoot. This is the oldest church in the town and assumes not only religious significance but has much historical significance too.

City Shopping
Tibetian market is very popular here, one can buy traditional Kashmiri shawls, handicrafts and offers a wide range of the famous Kullu shawls; made from lamb's wool, angora, pashmina. Gandhi Chowk is known as the lifeline of Dalhousie. Many Himachal Handloom are available here.

Chamunda Devi Temple
The Chamunda Devi Temple is situated about 15 km from the Kangra Valley, this holy place is the most among devotees.

Chamba
Chamba is the place which attracts many tourist . The environment here is endowed with a variety of flora and fauna, making it a very picturesque background for your holiday memories. The river Ravi cuts across town and adds to the scenery. The balanced temperatures of the area make it the perfect destination all year round.