Rishikesh
 is a famous Hindu religious destinations, popular amongst devotees, yoga persons and adventurers as well. Located on the banks of the sacred Ganga River, Rishikesh attracts thousands of pilgrims every day from India as well as abroad. Rishikesh, literally means Lord of the Senses, stands for Lord Vishnu and the city is blessed with the flowing of Holy Ganges. The city is a hub of many ancient and new temples, attracting thousands of pilgrims throughout the year. The popular belief of Hindu devotees is that performing austerities in this holy town and offering prayers in the holy temples brings the much needed attainment of 'Mukthi', the salvation. 
Rishkesh
 is renowned for numerous Yoga centers, and perfectly termed as the World Capital of Yoga, offering training of Yoga and many other spiritual activities. This is a place to attain peace and tranquility. Many water sports activities like white water rafting and adventurous activities like wild forest trekking can be enjoyed in Rishikesh.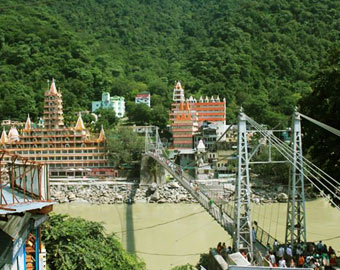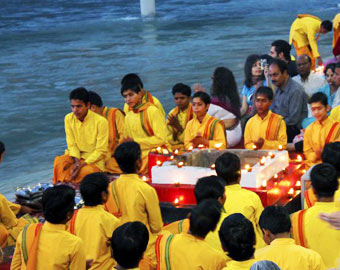 Rishikesh
 is situated 25 kms ahead of Haridwar at an elevation of 356mts above sea level. Rishikesh consists of three distinct areas known as Rishikesh, Swargashram and Muni-ki-Reti.