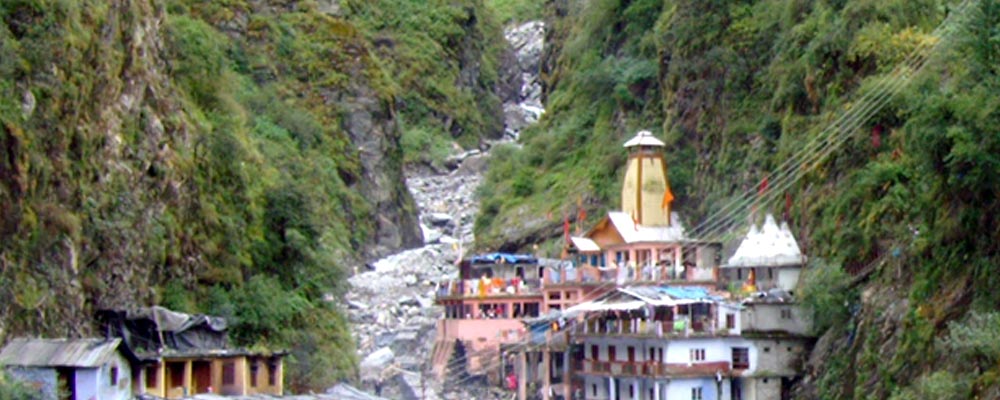 Yamunotri
"The birth place of the Yamuna"
Revered as the origin of Yamuna river, the pilgrim centre (among one of the 'Chhota Char Dham') nestled in the laps of Garhwal Himalayas at 3293 mts high uses its natural elements to fascinate you with its visuals and create a spiritual charm.
This sacred home of sage Asti is surrounded by undulating peaks, Himalayan glaciers and thermal springs. Hindu mythologies hail Yamuna as the sister of Yama- the God of Death, and it is believed that a bath in Yamuna can make death painless. It appeals to all sorts of tourist from the pilgrims, to the ones in search of a romantic destination as well as adventure enthusiasts who are sure to find abundance of thrill and excitement in its grand and awe inspiring sceneries, given the location.

How to Reach Yamunotri
By Flight
There is no direct flight connectivity to Yamunotri. The nearest airport is in Dehradun, around 198 km away from the Yamunotri. If possible, you can also go for the helicopter service from Dehradun to Yamunotri.

By Road
There is no direct road connectivity to Yamunotri in any respect. The nearest road stop is in Uttarkashi, which is 122 km away from Janki Chatti, the nearest Jeep stop to Yamunotri, from where the trekking trip to Yamunotri is 4 km. You can have horses and palanquins for rent if you don't want to trek on foot.

By Train
There is no direct rail connectivity to Yamunotri. Rishikesh railway station is the nearest railway station to the site, almost 211 km away from the same. You can opt for private taxis or buses to travel to Yamunotri.

Commuting Within Yamunotri
Ponies and palanquins are used by tourists. Otherwise, locals traverse the place on foot.

Best Time to Visit Yamunotri
Summer (April - July): This is the most advisable time for a trip to Yamunotri. The area is pleasant for a visit at this time, with temperatures rarely going beyond 20 degrees Celcius.

Monsoon (July - September): This is not exactly a good time to visit Yamunotri owing to the frequent landslides, coupled sometimes with cloudbursts and torrential rainfall.

Winter (October - March): This is the least ideal time for a visit to the site, owing to the harsh and freezing winters, which can drop to as low as -7 degrees Celcius. Due to this, the roads are closed for most of the time in this season.

Food and Cuisine of Yamunotri
The food in Yamunotri is simple and comprises of mostly vegetarian North Indian dishes.

Places to visit in Yamunotri
Yamunotri Temple
This Dham atop 3030 metres on Kalinad Parvat was built in 19th Century containing a bejeweled silver idol of Yamunotri wrapped in garlands. Devotees trek the 6 km up the hill dotted with Ratnajot- a popular herb to cure eye diseases; all the way from Hanuman Chatti.

Janki Chatti
A hot bed of hot springs and trekking, Janki Chatti is a close sister of Hanuman Chatti and acts as an alternative base for treks to Yamunotri. The hot springs here are the biggest draw of Janki Chatti. Surrounded by huge mountains from all sides and itself situated at an altitude of 2700 meters, Janki Chatti is a unique place of devotion and relaxation.
Being here, you can test the adventure seeker in you, rest and relax in the hot springs and admire the beauty of the gigantic mountains all day long.

Surya Kund
This hot water spring is dedicated to the Sun God, believed to be the father of Yamuna. It also consists of a hot water spring at a temperature of 1900 F. Devotees often fasten rice and potatoes in a cotton cloth, and dip it in the water to be cooked. This cooked food is then offered to the temple.

Hanuman Chatti
A base camp for some of the most exciting and major trekking trails in the Himalayan Mountains, Hanuman Chatti is a place of profound scenic beauty. It acts as a base for treks to Yamunotri, Dodi Tal and Darwa Top, making it a hub for trekking in the state. It is Situated at an altitude of about 2400 meters at the confluence of Hanuman Ganga and Yamuna River.
Hanuman Chatti is a base camp for the famous Char Dham Yatra into Yamunotri is also popular for offering some great treks to nearby peaks. Located in beauteous surroundings in the look of the Mighty Himalayan Mountains, Hanuman Chatti is a great place for seeking relaxation and adventure.

Saptarishi Kund
A popular natural lake atop 4421 metres, it is considered to be where Yamuna originates. You can trek the 10 km path from Yamunotri, preferably with a guide. You will also meet many exotic birds and glaciers on your way.

Divya Shila
Located at 3000 metres high, this rock pillar next to Surya Kund is another pilgrim attraction.

Kharsali
Just off Janki Chatti is Kharsali, a lovely picnic spot sprinkled with a number of thermal springs, water falls and rolling meadows covered by Oaks and conifers. Lord Shiva in the Someshwar form inhabits an ancient 3-storied temple with beautiful wood work and stone carvings.

Trekking
The way to Yamunotri is often covered by trekkers via Yamuna Bridge, Badkot or Rishikesh. You can also opt for a guided tour of the place.

Badkot
49 km off Yamunotri is Badkot, famous for its ancient temples and shrines.