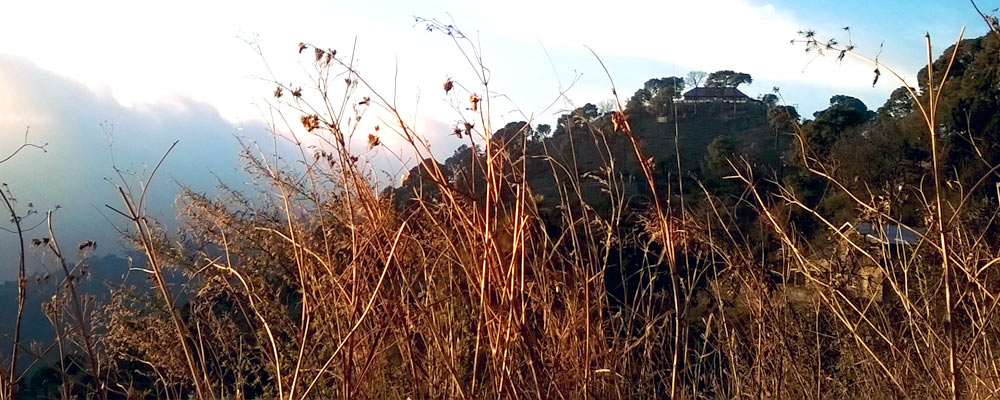 Kasauli
Kasauli is a small situated at an altitude of 1927 mtrs. This town is about 77 km from Shimla and around 70 km from Chandigarh. Myth is that insearch of sanjivni hill Lord Hanuman placed his feet here, the place where Lord Put his feet is a hillock which is about 300 mtrs high. Kasauli got its name from a flower called "Kasool" and this place is best known for its unspoiled beauty. Himachal is one of those places where God and Goddess live. Surrounded with high peak mountains, slopes, peaceful greenery gives amazing view to the outsiders and bound them to come here again and again to spend their quality time from there busy schedule.
Kasauli is one of those place which was developed by the Britishers during their peak period in India. Kausali is a cantonment and town both, being the cantonment of Indian Army the rules are strict and not allowing the new constructions to preserve the nature. Kasauli is a mixture of British and Indian culture both, partialy of regal culture can see in the architecture. One can see temples, churches, mosques and Gurudwaras here. As far as cuisine is concerned one can find Vegetarian and Non- vegetarian both. Some of the tradiational festivals which is celebrated here is Lohri, Basant Panchami, Solan Fair, Renuka Fair etc…


Connectivity

By Air: Chandigarh is the nearest Airport and is well connected to other major cities; it is around 30 kms from kasauli. Cabs/taxis are available from Airport.

By Rail: Kalka is the nearest Railway station to reach Kasauli. Cabs/taxis are available from Railway Station.

By Road: The Himachal Pradesh State Transport Corporation runs several buses between Kasauli and the other cities in the state and also nearby cities like Chandigarh.

Seasons:
Summer (April-June) Temperature varies between a maximum of 28 degrees Celsius and a minimum temperature of 14 degrees Celsius.

Monsoon (July - September) For outdoor activities monsoon is the best time in kasauli. There is a low rainfall in this region.

Winter (October - March) Temperatures ranging between 0 and 20 degrees Celsius. Winter is chilly, good for snow lovers.

Foods
In Kasauli local and traditional cuisines of Himachal is available, other than that some restaurants provide Indian, Italian, Continental and Chinese cuisine. One can try out the Sidu ( a kind of locally made bread), Kadhi, Poppy Seeds Halwa, Maadra and more. some refreshing and healthy teas popular here Green Ginger Tea which has cinnamon and spices as well. Another beverage like Peach wine, Plum wine, Apple wine, Sherry wine and some more.

Restaurants
Hangout Rooftop Bar and Café
Narinder Sweet House
NH 22 Dhaba

Attractions
Timber Trail
Timber trai is located at a distance of about 31 kms from Kasauli. It is a small hill station, popular for its Ropeway rides which gives amazing thrilling experience covering the distance of around 1.8 kms. Surrounded by mountains, incredible natural beauty, one should not miss this beauty and experience.

Monkey point
Monkey point as name itself says the residence of monkeys , one can get chance to see these monkeys personally although they do not harm anyone , but it is advisable to be careful and do not carry any food item infront of them . There is a small temple of Lord Hanuman , myth is Lord Hanuman insearch of Sanjeevni put his foot on this spot, surprisingly hill is also shaped like a foot. This temple is located at the highest point of the town and nearly about 4 kms in distance from the bus stand. Since the temple is located near Air Force Station so it is better to carry Identity proof with yourself , do not carry any electronic items and you can visit this temple before 5.00 pm . Taxis/cabs will leave you till Air Force Base from there you need to walk up to the Monkey Point.

Mall Road
Mall road provides lots of options for shoping and eating out. It is one of the crowded place specially in early evenings and in evenings. It is a good place for Shopoholic people.

Sunset point and Lover's Lane
Just at a walking distance from Sunset point there is a lovers lane, one can enjoy the scenic beauty of this place strolling hand in hand with their partners , specially for newly wed couples this is a romantic place. At sunset point enjoy the colors of nature during sunset, just sit , relax lots of space is here benches, playground is available.

Gurudwara Shri Guru Nanakji
This Gurudwara is a favourite tourist spot , also offers accommodation facilities and special program is held on the Sundays. Baptist Church
This church was built in the year of 1923 by the Britishers, architectural style of this church is in Indian and Victorial style. Church got damaged by a fire in 2008 and all the internal furshings got destroyed.

Christ (Anglican) Church
This church was built in the year 1853, located at the centre of the city with a vibrant mall road around it. This church was built in a Gothic style architecture. A very peaceful tourist spot, this church has beautiful Intalian and Spanish stained glass windows which look beautiful.

Sri Baba Balak Nath Temple
This temple is located about 3 km away from Kasauli and dedicated to Baba Balak Nath , who is a follower of Lord Shiva. Local peaople saying that if childless couples come and pray here they will be blessed with children.