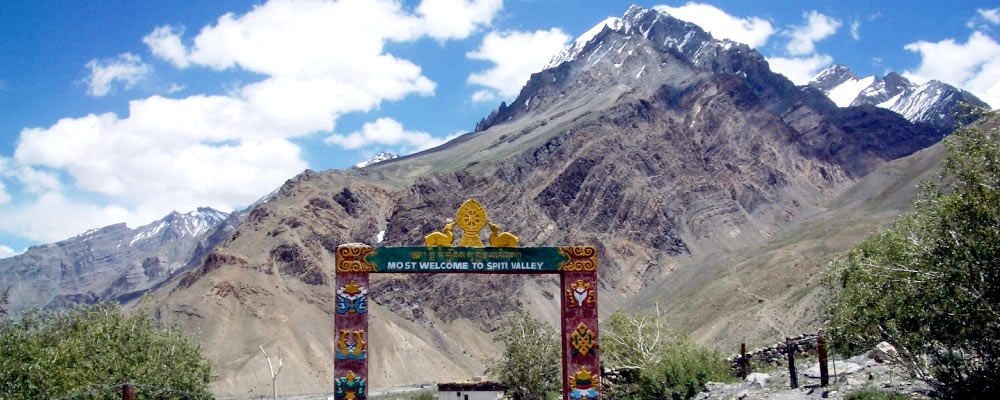 Spiti Valley "A Hidden World"
Spiti is situated around 12500 feet above sea level.Once in your lifetime you must visit this place , it is also known as Little Tibet. Surrounded by mountains, glaciers,monasteries , crystal clear water. The meaning of Spiti is middle land, it is in the middle only surrounded by Tibet in the east, ladakh in north, Kinnaur to the south east, Lahaul and Kullu to the south.Currency exchange facility is not available in Spiti, it is advisable to change the currency either in Shimla or Manali. This is a high altitude place so one should be medically feet then only you can enjoy the trip. Ideal time to visit Spiti is from May to October. The valley is a research and cultural centre for Buddhists.
This district came into existence in the year 1960,till that time it was a Tehsil of kullu. Spiti and Lahaul was ruled by the Maharaja Ranjit Singh. In the year 1864 , The British East India Company took over the possession of Spiti, before that it was a part of Ladakh, a subsidiary of Jammu and Kashmir. In 1941, Spiti, with Lahaul, was constituted into a separate sub-tehsil of Kullu sub-division which had its headquarters at Keylong. In 1960, Spiti was formed into a sub-division with its headquarters at Kaza.


How to Reach Us

By Air The nearest airport is in Bhuntur, near Kullu, about 245 km. Alternatively other nearest International Airport is Chandigarh which is about 211 km. Cabs/Taxis is available from Airport.

By Rail The nearest Railway Station is Pathankot which is about 500 km away. Cabs/Taxis is available from Railway Station.

By Road bus services on a daily basis, whether day or night, from places like New Delhi, Pathankot, Shimla etc. Cabs/Taxis is also available.

Best Season to visit
Summer (March - June) The temperatures rarely dropping below 15 degrees Celcius. Best time for trekkers and campers, and the peak season for travelling to Kaza.

Monsoon (July - September) Monsoon season receives moderate to heavy rainfall, not a good season due to road blockage and landslides.

Winter (October - February) Winters are chilly here . The roads connecting Spiti Valley to the rest of India are blocked most of the time in this season.

Food
In Spiti Valley one can find Tibetian and North Indian both cuisines. One can enjoy local foods as well like Momos, Thukpa, Butter tea, Chang (a locally made beer), Arkah (a locally made whiskey) and more. Flavoured and aromatic teas such as those with garnishes of lemon, mint, ginger, honey are quite popular here.

Restaurants

Dragon Restaurant

Sachin Kunga Restaurant

Cafe Kunzum Top

Hotel Dupchen

Sol Cafe

Attractions

Key Monastery
This Monastery is situated at a height of about 4112 mtrs , it is built in 14th Century. Architecture of this monastery is in chinese style has got Buddha idols, books and murals collections . This is the oldest and the biggest monastery in Spiti Valley.

Kungri Monastery It is the second oldest monastery in Spiti Valley has beautiful silk paitings of Buddhist dieties on walls. This monastery follow Nyingmapa Buddhism, one can enjoy Devil dance or Chham during June and July month.

Tabo Monastery
This Monastery is covered an area of about 6300 sqm metres and one of the oldest monstarey. People also say this as the 'Ajanta of Himalayas'it resembles just like that. It was built by Buddhist King Yeshe O'd in 996 A.D. 46 years later, later it was renovated by his grandnephew Jangchub O'd. It was built as a daughter monastery to the Tholing Monastery of Tibet.In 1975 earthquake in Kinnaur this monastery also got damaged.

Shashur Monastery
This Monastery is a three storey structure located at a distance of about 35-40 km from Manali. It got his name from the blue pines surroundings. One can view the river, mountains and Keylong town from the monastery and it just look amazing .

Gandhola Monastery
This Monastery is located on a hilltop above Tupchiling village, where the rivers Chandra and Bhaga meet. It was founded by Padma Sambhava and is over 800 years old. It is famous for its wooden idols.

Tayul Monastery
Tayul Monastery has the biggest statue of Padma Sambhava, it is about 12 ft. tall, appears as Singhmukha and Vajravarahi. The Gompa also has a hundred million mani wheels, which are meant to open the minds of visitors.The wheels are said to turn themselves on auspicious occasions.

Tangyud Monastery
Tangyud Gompa is situated at a distance of about 4 kms from Kaza. Tangyud is one of the only two monasteries belonging to the Sakya sect in Spiti.It is built on the edge of a deep canyon, resembles a fortified castle and overlooking mud walls and battlements.

Kardang Monastery
It is closed to Keylong and across the Bhaga river located in the greenery, mountains from a distance one can see white building with prayer flags from a distance.

Kunzum Pass
Kunzum Pass is one of the highest pass and is situated at an altitude of about 4551 m and also named as Kunzum La in Chinese. It connects the Kullu and Lahaul Valley with the Spiti Valley. One can do trekking here. Goddess kunjum temple is situated here it is beleived that Goddess protects from evil powers.

Baralacha Pass
Baralacha pass, means connecting various roads,this pass is the connecting point between Lahaul and Ladakh at a height of about 16000 ft.

Suraj tal Lake
The Suraj Tal, is one of the most beautiful and photogenic lakes. The lake is at a distance of around 65 kms. from Keylong. One can enjoy trekking and biking tour.

Chandratal Lake
Chandratal Lake is located at an altitude of about 4300 m in Himalayas. The "Chandra Taal" (Lake of the Moon) name comes from its shape. The color of water of this holy lake keeps changing from reddish to orange to blue to emerald green as the day ends. Best time to visit this lake is from June to October. One can enjoy trekking starting from Batal to Chandratal Lake which is around 14 km

Pin Valley National Park
Pin Valley National Park is home to the rare species of famous Himalayan snow leopards and their prey, the Ibex. The Valley was converted into National park in 1987 covering the area of almost 9700 sq km. Due to its high altitude only few animals and plants live here. Animals here include woolly hair, Tibetan gazzle, snow leopard, fox, wolf, ibex, bharal, Himalayan marmot, Indian porcupine, blue sheep, red-billed chough, Patridge, snow Patridge, blue rock pigeon and Tibetan wild ass among many others.

Kibber
Kibber is situated at an altitude of about 4205m above sea level. It is locally known as Khyipur, It is one of the highest villages in the world, surrounded with beautiful mountains , landscapes.

Yak Safaris
One can explore this place by doing Yak and horse safaris, it is very popular here.

Trilokinath Temple
This temple is situated on a cliff at the end of a street in the Tunde village , it holds both buddhism and hindu religious values. If you are planning to visit in the month of August then you can enjoy 3 days Pauri festival and this is a good time to visit.

Thangka painting
This is a buddhist painting made of cotton and silk. Thangka painting are used for devotional and decorative purposes. There are various workshops held by famous thangka painters who teach the visitors the importance and procedure that goes in the making of the painting.

Mountain Biking
Mountain is now a days very popular in Himalayan region. One can enjoy this in the month of June to September, rented bikes are available. Ride on some of the highest roads and through dessert like and dreamy landscapes.

Tibetan Shops
One can do shopping for gems and jewellery, local ornaments, semi-precious stones as well as ceramic utensils from Tibetian shops which are available here.